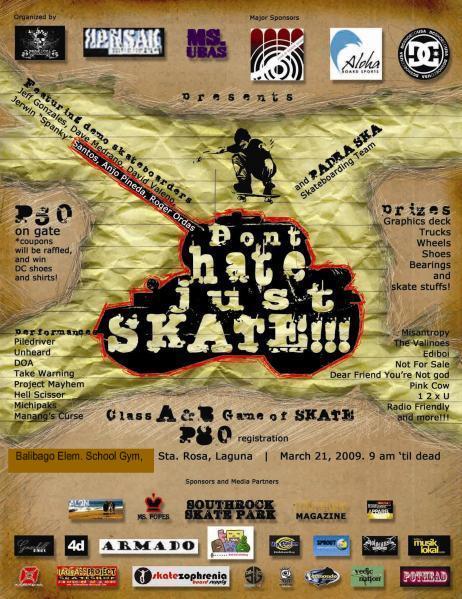 Don't Hate...Just Skate!!! Skateboarding Competition and Skaterock at Balibago Elem. School gym, Sta. Rosa, Laguna March 21, 2009 9am onwards Entrance P50 Registration for Class A & B and Game of SKATE P80
Presented by Padraska Skateboarding, Aloha Board Sports, 5-0 Skate Shop, DC Shoes, Ransak and Ms. Ubas
With performances by Piledriver, Unheard, DOA, Take Warning, Project Mayhem, Hell Scissor, Michipaks, Manang's Curse, Dear Friend You're Not God, Misantropy, The Valinoes, Not For Sale, Ehdiboi, Pink Cow, 1 2 x U, Radiofriendly and more!!!
In part by Skate Goodies, Flipskates, Hip Station, Jackass Project, Skatezophrenia, Fermonde Skateshop, Malachi, Vedic Nation, Pothead, Retardo, Gnarkill, Fourthdoor, Armado Clothing, Roll Out Clothing, Southrock Skatepark and Ms. Popes
Media partners
Musiklokal, Holocaust Skate Zine, Alon Philippines Skimboarding Forums, Sprout and Diretso Magazine
Pls. pass and support your local skate scene...
Similar topics
---
Permissions in this forum:
You
cannot
reply to topics in this forum